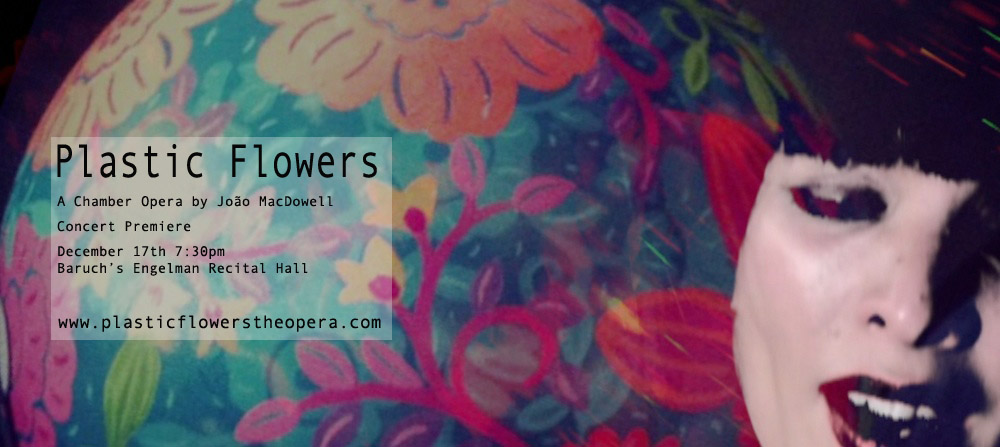 Plastic Flowers is about broken hearts in a fabricated universe. We all want love and affection. Virtual reality and promises of instant connection are bound to fall into frustration, for the very nature of the experience. They can be made of paper, or silk, perfectly beautiful in Japanese ornaments, or gathering dust in shelves of Dollar Stores. They are all Plastic Flowers, artificial paradises.
* Check Brazilian Portuguese version.
A psychological monodrama.
Music and libretto: João MacDowell
for mezzo-soprano, piano and live electronics
Orchestration for chamber ensemble  and Portuguese libretto available upon request.
Composed in Rio de Janeiro, Brasília and New York, June-December, 2012.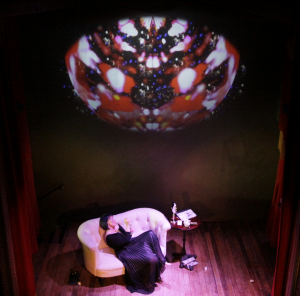 Concert Premiere in New York City
Engelman Recital Hall, December 17th 2012
Abby Powell as Penelope
Han Chen on Piano
Luigi Porto on Live Electronics
New York Staged premiereMarch 12 & 13 2017
at The Slipper Room, as part of the United Nations He4She Arts Week.
For more info on the compositional process, please visit: Flowers for the Academy.
Act 2 – 2016 Workshop pperformances – The Shopping Mall

Plastic Flowers – 2012 music-video:

Reserve your Plastic Flowers' CD, DVD, poster, score book, karaoke, collectible originals!
"I love Penelope: searching for permanence in a world of disposable relationships and fugitive desires, seduced by simulacra, she holds on fiercely to the possibility of making something real of her life.  Joao MacDowell's music is a fitting accompaniment to her quest; its elusive harmonies, ambiguous tonalities and blurring of generic lines suggest a self taking shape, a woman owning up to her powers of self-invention.  Abby Powell brings Penelope to life with passion, color and wisdom, and the support from Han Chen on piano and Luigi Porto on live electronics is first rate."
Anita Mercier, Liberal Arts Faculty, The Juilliard School – January 2013
Like us – We have a Facebook Page!
"Tive a oportunidade de assistir a estréia de Plastic Flowers de João Macdowell em NY. Fiquei bastante impressionado. Uma obra que que reune o popular, o clássico (comtemporâneo), de forma ousada, criativa e interessante. Um pianista jóvem e fantástico, uma cantora impecável e um tecladista com seus adereços e frases eletrônicas muito bem colocadas. Um concerto que me fez bem a me alimentou artísticamente. Parabéns!"
"I had the opportunity to attend to the debut of Plastic Flowers in NY. His approach combines popular and classical (contemporary) in a bold, creative and interesting way. A young and awesome pianist, an impeccable singer and a keyboardist with props and well placed electronic phrases. A concert that inspired me artistically. It is truly great that João is on that path. Congratulations!"
Fabio Fonseca, Record Producer, Keyboardist and Composer – January 2013
Plastic Flowers is a BrazilianOpera.com product.
"When I first saw Joao's score I was embraced by a brand new world of sonic possibilities. Penelope's inner world is something very emotional, her thoughts are captivated inside some sort of satanic mechanism, made of plastic. The starting theme sounds to me like some sort of thunder – I hear Wagner in it, but it is also quiet, it has a fake shadow. The harmony is very complex yet enjoyable. It is like Schoenberg meeting Pop Art.
The sound design was produced in surround format. I built synthesizers using Max-MSP to create harmonic sounds out of existing noises. The soundscapes are intended to make Plastc Flowers sound like a movie at moments."
Luigi Porto, Sound Designer, Composer, Multimedia Artist – October 2012
Brazilian Press: Correo Brasiliense
Han Chen on piano for the Plastic Flowers Concert Premiere!
Luigi Porto preparing "Plastic Flowers" soundscapes.
Send us Feminine Images for "Plastic Flowers"!
From the score of "Plastic Flowers": mixing opera with live electronics.
Abby Powell cast as Penelope for the Concert Premiere of Plastic Flowers
______________________________________________________________________________
Be a part of it:
Reserve your Plastic Flowers' CD, DVD, poster, score book, karaoke, collectible originals:
With a donation of $7 and up, you will have access to an audio folder, with performance recordings and a pdf version of the full book, including libretto and vocal score.
Higher donations may qualify for extra Thank You gifts from Plastic Flowers: CD, DVD, poster, score book, karaoke, collectible originals, or a combination of it all.
We really appreciate your support!
______________________________________________________________________________
Check: Tamanduá – A Brazilian Opera
_____________________________________________________________________________
Be a part of it: Support Future Projects!